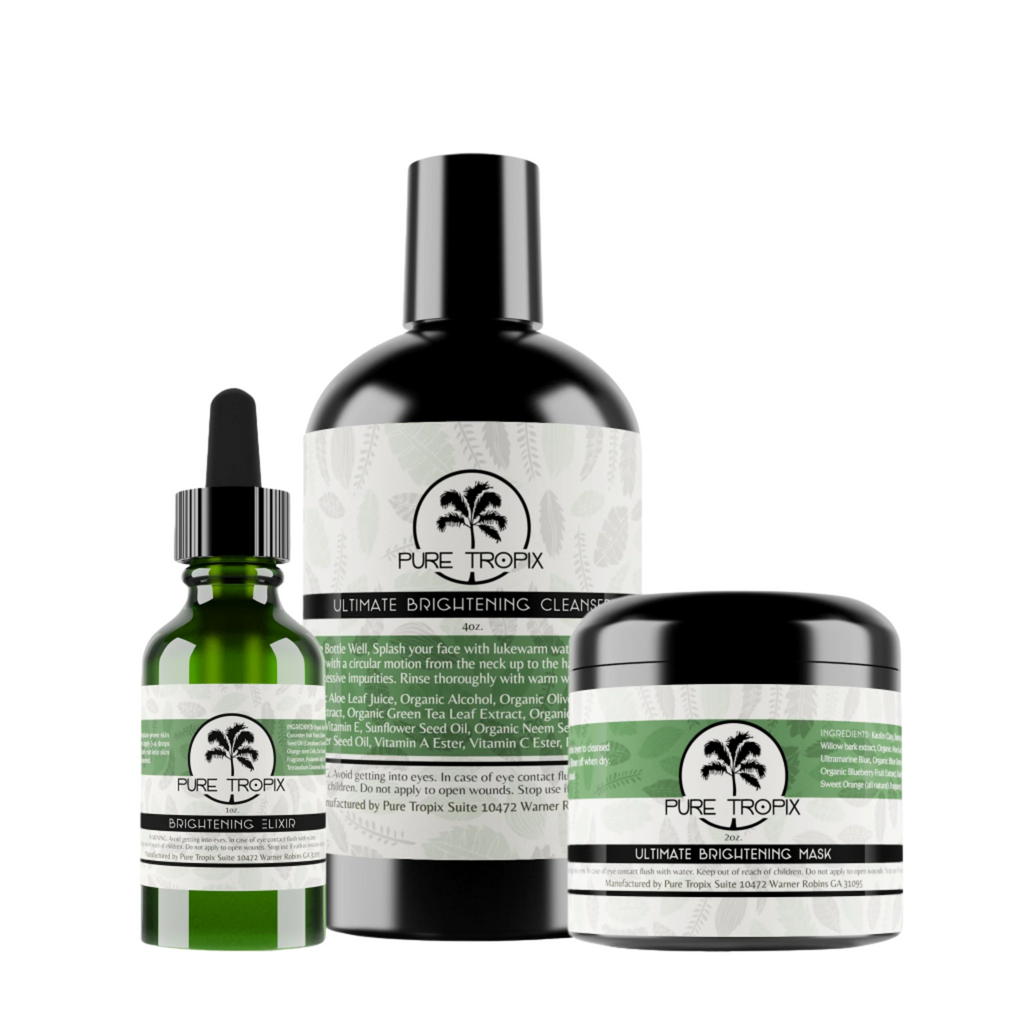 Ultimate Brightening Kit

corierayvon
My holy grail for clear skin. no cap. @puretropix 's honey cleanser 😍 obsessed. (Y'all can stop asking what I use now) 😂

kamrinwhite
 I get a lot of questions about my body skin care routine and how to keep it soft and smooth. @puretropix has been such a life saver with that !! The body scrub is the best thing to use before shaving and it leaves your body so moisturized and the body butter 😫 it leaves you soooo glowy and smooth omg.
Description
"This kit is a life saver! I struggle with under the skin pimples and this has helped." -Fazz
The Pure Tropix Ultimate Brightening Kit includes our 3 newest formulas specifically designed to make you shimmer & glow!
 1. Brightening Cleanser:Ultimate Brightening Cleanser is an ultra-gentle and reparative cleanser that sinks into the skin to dissolve all traces of urban pollutants, impurities, make-up and sunscreen without disrupting the skins pH balance.
 2. Ultimate Brightening Mask: 𝘿𝙞𝙨𝙘𝙤𝙫𝙚𝙧 𝙩𝙝𝙚 𝙗𝙚𝙖𝙪𝙩𝙮 𝙗𝙚𝙣𝙚𝙛𝙞𝙩𝙨 𝙗𝙚𝙝𝙞𝙣𝙙 𝙊𝙪𝙧 𝙐𝙡𝙩𝙞𝙢𝙖𝙩𝙚 𝘽𝙧𝙞𝙜𝙝𝙩𝙚𝙣𝙞𝙣𝙜 𝙢𝙖𝙨𝙦𝙪𝙚 𝙖𝙣𝙙 𝙧𝙚𝙫𝙚𝙖𝙡 𝙩𝙝𝙚 𝙡𝙤𝙤𝙠 𝙤𝙛 𝙙𝙚𝙚𝙥𝙡𝙮 𝙘𝙡𝙚𝙖𝙣𝙨𝙚𝙙 𝙖𝙣𝙙 𝙩𝙤𝙣𝙚𝙙 𝙨𝙠𝙞𝙣 𝙬𝙞𝙩𝙝 𝙆𝙖𝙤𝙡𝙞𝙣 𝘾𝙡𝙖𝙮 & 𝙧𝙞𝙘𝙝 𝙗𝙡𝙪𝙚 𝙜𝙧𝙚𝙚𝙣 𝙖𝙡𝙜𝙖𝙚! 𝙊𝙣𝙚 𝙤𝙛 𝙩𝙝𝙚 𝙢𝙤𝙨𝙩 𝙞𝙢𝙥𝙤𝙧𝙩𝙖𝙣𝙩 𝙠𝙖𝙤𝙡𝙞𝙣 𝙘𝙡𝙖𝙮 𝙨𝙠𝙞𝙣 𝙗𝙚𝙣𝙚𝙛𝙞𝙩𝙨 𝙞𝙨 𝙩𝙝𝙚 𝙛𝙖𝙘𝙩 𝙩𝙝𝙖𝙩 𝙩𝙝𝙞𝙨 𝙩𝙮𝙥𝙚 𝙤𝙛 𝙘𝙡𝙖𝙮 𝙝𝙖𝙨 𝙩𝙝𝙚 𝙖𝙗𝙞𝙡𝙞𝙩𝙮 𝙩𝙤 𝙙𝙚𝙩𝙤𝙭𝙞𝙛𝙮 𝙮𝙤𝙪𝙧 𝙨𝙠𝙞𝙣 𝙗𝙪𝙩 𝙞𝙩 𝙙𝙤𝙚𝙨𝙣'𝙩 𝙙𝙧𝙮 𝙞𝙩 𝙤𝙪𝙩 𝙖𝙩 𝙩𝙝𝙚 𝙨𝙖𝙢𝙚 𝙩𝙞𝙢𝙚. 𝙄𝙛 𝙮𝙤𝙪𝙧 𝙨𝙠𝙞𝙣 𝙝𝙖𝙨 𝙗𝙚𝙚𝙣 𝙡𝙤𝙤𝙠𝙞𝙣𝙜 𝙩𝙞𝙧𝙚𝙙 𝙖𝙣𝙙 𝙙𝙪𝙡𝙡, 𝙊𝙧𝙜𝙖𝙣𝙞𝙘 𝘽𝙡𝙪𝙚 𝙂𝙧𝙚𝙚𝙣 𝘼𝙡𝙜𝙖𝙚 𝙘𝙖𝙣 𝙙𝙤 𝙬𝙤𝙣𝙙𝙚𝙧𝙨 𝙛𝙤𝙧 𝙮𝙤𝙪𝙧 𝙨𝙠𝙞𝙣. 𝙒𝙞𝙩𝙝 𝙞𝙩𝙨 𝙝𝙞𝙜𝙝 𝙘𝙤𝙣𝙩𝙚𝙣𝙩 𝙤𝙛 𝙘𝙖𝙡𝙘𝙞𝙪𝙢, 𝙞𝙧𝙤𝙣, 𝙥𝙝𝙤𝙨𝙥𝙝𝙤𝙧𝙤𝙪𝙨 𝙖𝙣𝙙 𝙫𝙞𝙩𝙖𝙢𝙞𝙣𝙨 𝘼, 𝘽-12 𝙖𝙣𝙙 𝙀, 𝙨𝙥𝙞𝙧𝙪𝙡𝙞𝙣𝙖 𝙬𝙤𝙧𝙠𝙨 𝙤𝙫𝙚𝙧 𝙩𝙞𝙢𝙚 𝙩𝙤 𝙛𝙞𝙜𝙝𝙩 𝙛𝙧𝙚𝙚 𝙧𝙖𝙙𝙞𝙘𝙖𝙡𝙨, 𝙥𝙪𝙧𝙞𝙛𝙮𝙞𝙣𝙜 𝙮𝙤𝙪𝙧 𝙨𝙮𝙨𝙩𝙚𝙢 𝙖𝙣𝙙 𝙩𝙝𝙚𝙧𝙚𝙗𝙮 𝙧𝙚𝙨𝙩𝙤𝙧𝙞𝙣𝙜 𝙮𝙤𝙪𝙧 𝙨𝙠𝙞𝙣'𝙨 𝙫𝙞𝙩𝙖𝙡𝙞𝙩𝙮.

 3. Brightening Elixir:The Brightening Elixir is a lightweight serum packed with organic herbal extracts to soothe stressed, chaotic skin of all types while balancing moisture levels. Applies easily but absorbs quickly, leaving an exceptionally comfortable and smooth finish with this creamy serum.