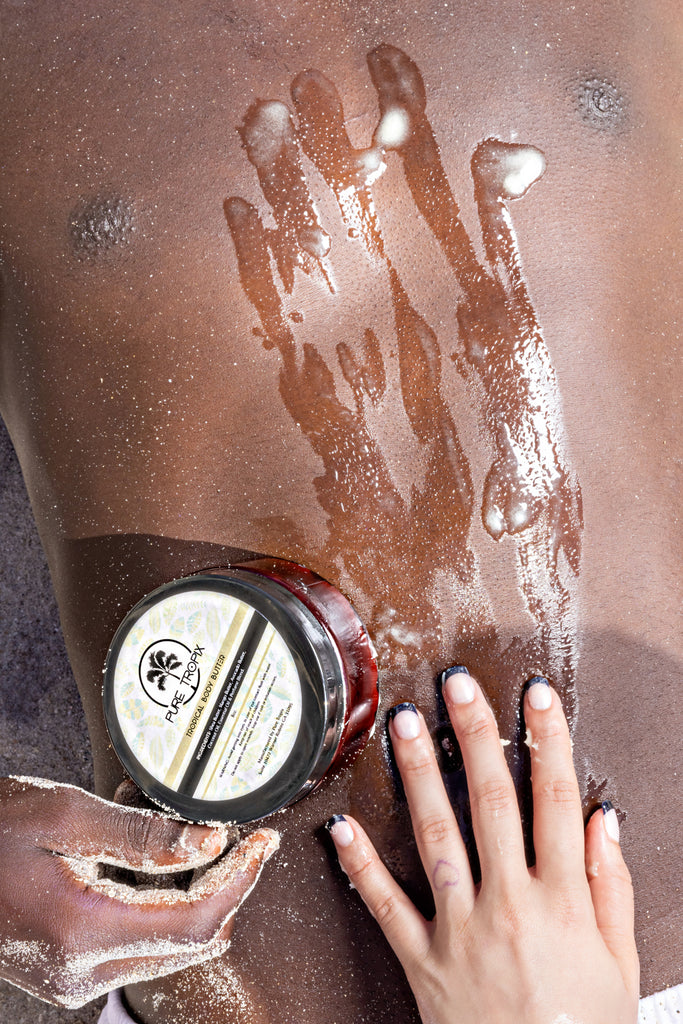 Tropical Body Butter

corierayvon
My holy grail for clear skin. no cap. @puretropix 's honey cleanser 😍 obsessed. (Y'all can stop asking what I use now) 😂

kamrinwhite
 I get a lot of questions about my body skin care routine and how to keep it soft and smooth. @puretropix has been such a life saver with that !! The body scrub is the best thing to use before shaving and it leaves your body so moisturized and the body butter 😫 it leaves you soooo glowy and smooth omg.
Description
" THE SMELL IS OUT OF THIS WORLD AMAZING and I get compliments about it!" - K. Clark
Indulge in this decadent treat for your skin! Our Whipped Body Butter is created using a unique blend of Mango Butter, Coconut Oil, Shea Butter, Avocado Oil. These rich butter and skin-loving oils give a silky smooth finish when this butter is applied while helping to moisturize and nourish the skin all day long. A little goes a long way and absorbs into the skin beautifully. Vegan friendly and Phthalate free, you can feel great about what you're putting on your skin. 
Refreshing, exotic, with just the right amount of Japanese grapefruit.  Grapefruit mango fragrance begins with top notes of Japanese grapefruit, ruby red grapefruit, and mango covered with a fresh scoop of vanilla ice cream.
 Gaze upon the glistening moisture! Feel irresistible, smooth skin!
Taking self-care to a whole new level with this condensed butter! No fillers, no water, and no need for preservatives!
Ingredients
Shea butter, Hemp butter, Mango butter, Coconut Oil, Fragrance Oil (natural)