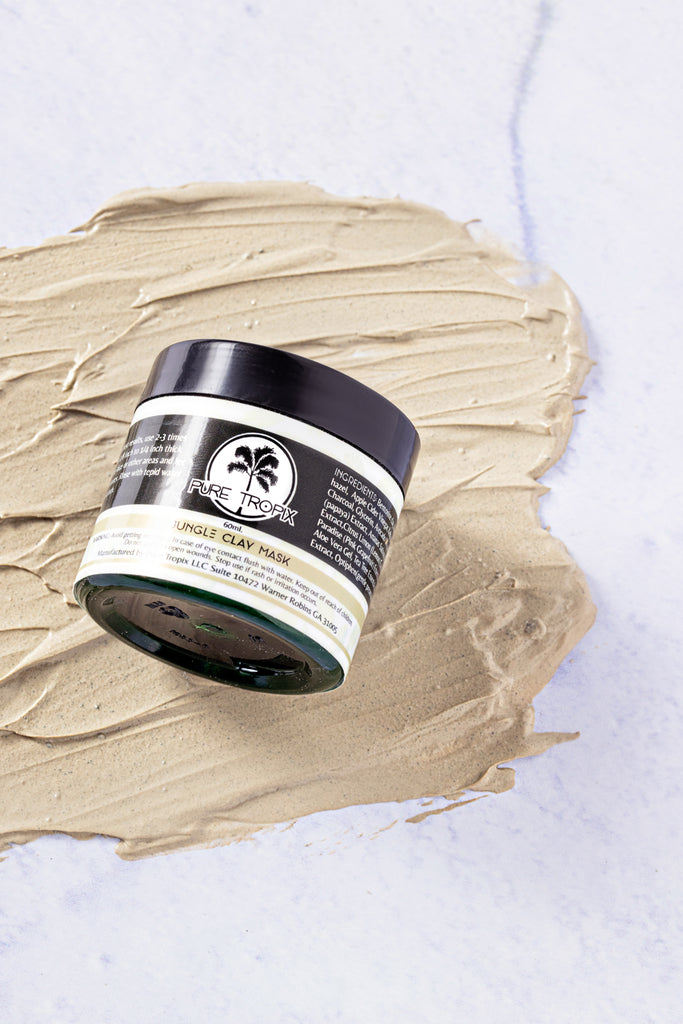 Jungle Clay Mask

corierayvon
My holy grail for clear skin. no cap. @puretropix 's honey cleanser 😍 obsessed. (Y'all can stop asking what I use now) 😂

kamrinwhite
 I get a lot of questions about my body skin care routine and how to keep it soft and smooth. @puretropix has been such a life saver with that !! The body scrub is the best thing to use before shaving and it leaves your body so moisturized and the body butter 😫 it leaves you soooo glowy and smooth omg.
Description
"I use the clay mask faithfully every day and it makes my skin so soft! My dark spots are clearing up, less acne and I love it!"- Tia
World's most powerful facial. Deep pore cleaning with 100% natural calcium bentonite clay, ultimate detoxifying mask treatment a plant-powered clay mask that helps to soothe and mend irritated skin. Perfect for dealing with breakouts or anytime your skin just needs a pick me up that tones, nourishes and refreshes fatigued skin.
 Draws out toxicity from the surface of the skin 
 Unclogs and shrinks Skin Pores 
 Improves Skin Tone 
How to Use
Apply a thick layer of Jungle Clay mask all over the face avoiding the eye area. Use your hands to smooth the paste onto your skin. Wait 10 minutes then rinse off the mask with water.
Why it Works
Kelp powder is rich in vitamins, minerals, amino acids, and trace elements that gently exfoliate brighten skin complexion, smooth, and moisturize while helping reduce free radical damage.
Witch Hazel is widely known for its ability to ease inflammation and soothe sensitive skin.
Coconut Charcoal draws bacteria, chemicals, dirt, and other micro-particles to the surface of the skin, helping you to achieve a flawless complexion and fight acne.
Bentonite Clay unclogs skin pores, makes skin softer, detoxifies, exfoliates, and helps reduce the appearance of scars,
Papaya extract, Pineapple Extract, and Lemongrass Oil are present for their many functions in promoting glowing healthy skin.
Ingredients
Bentonite clay, Aloe Juice, Witch hazel,  Apple Cider Vinegar, Kelp powder, Coconut Charcoal, Glycerin, Avocado Oil, simina triloba (papaya) Extract, Ananas Sativus (Pineapple) Fruit Extract, Citrus Limon (Lemon) Extract, Citrus Paradise (Pink Grapefruit) Essential Oil, Vitamin E, Aloe Vera Gel, Tea Tree, Essential oil, Cucumber Extract, Optiphen (gentle preservative).