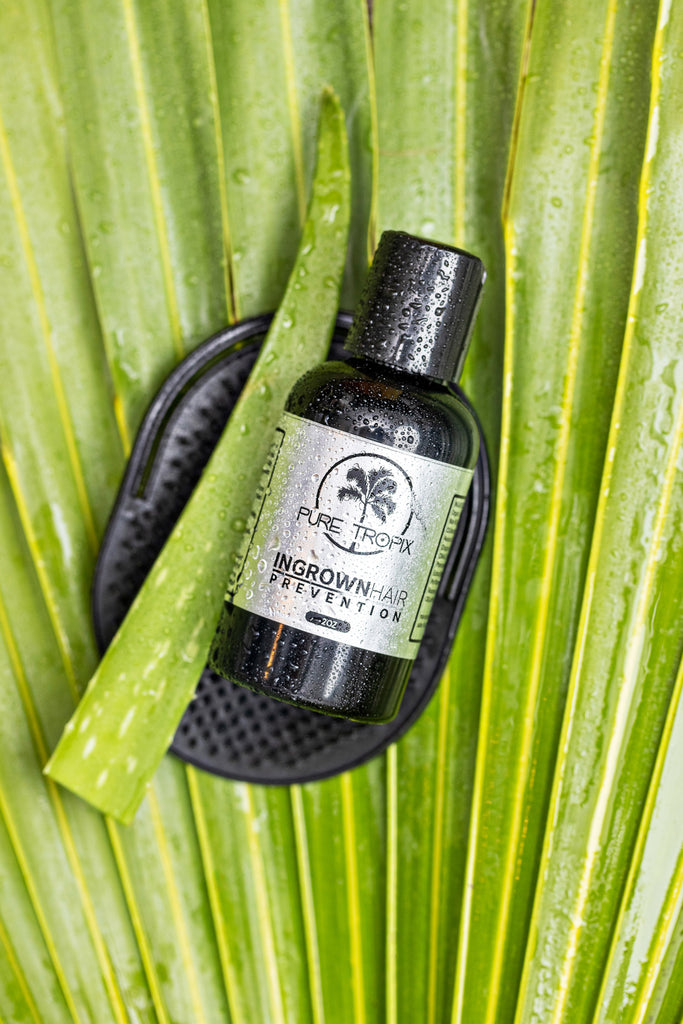 Ingrown Hair Prevention

corierayvon
My holy grail for clear skin. no cap. @puretropix 's honey cleanser 😍 obsessed. (Y'all can stop asking what I use now) 😂

kamrinwhite
 I get a lot of questions about my body skin care routine and how to keep it soft and smooth. @puretropix has been such a life saver with that !! The body scrub is the best thing to use before shaving and it leaves your body so moisturized and the body butter 😫 it leaves you soooo glowy and smooth omg.
Description
"I Love This Serum. Followed the directions on how to apply it and used it twice a day and It works amaing! - Crystal
Sick of dealing with painful razor bumps? What you need is a natural & healthy solution that your skin will love! Feel confident in your skin again with our Famous "Ingrown hair prevention kit" Yes our Kit works on those ugly and painful bumps you get every-time we shave. This natural formula is made up of natural plant botanicals that effectively reduces the appearance of Ingrown hairs.
 It comes with our Exfoliation Brush!
 Reduces the appearance of Redness, Razor Bumps & Ingrown Hairs
 It contains sap from the "Sangre De Grado" Known across the amazon for its antibacterial & anti-inflammation properties.
How to Use
How to Use
1. Use the Exfoliating Brush (included) to gently exfoliate the affected area to release the trapped hairs.
2. Repeat in circular motions for 15-20 seconds.
3.Apply Ingrown Hair Prevention Serum to the addicted area (This product takes about 2 weeks to see results)
Why it Works
Papaya Extract A natural source of vitamins A and C, It helps weaken hair follicles, inhibiting future growth.
Tea Tree Oil a powerful antimicrobial essential oil that eliminates excess sebum in the pores to prevent ingrown and speeds up the skin's healing process.
Tamanu Oil an antimicrobial derived from the Tamanu nut that's packed with moisturizing omega fatty acids & antioxidants to soften skin and promote healthy cell growth.
Ingredients
𝙊𝙧𝙜𝙖𝙣𝙞𝙘 𝘼𝙡𝙤𝙚 𝙇𝙚𝙖𝙛 𝙅𝙪𝙞𝙘𝙚, 𝙂𝙡𝙮𝙘𝙚𝙧𝙞𝙣, 𝙀𝙢𝙪𝙡𝙨𝙞𝙛𝙮𝙞𝙣𝙜 𝙒𝙖𝙭 𝙉𝙁, 𝙊𝙧𝙜𝙖𝙣𝙞𝙘 𝘾𝙤𝙘𝙤𝙣𝙪𝙩  𝙊𝙞𝙡, 𝙁𝙤𝙧𝙖𝙝𝙖 (𝙏𝙖𝙢𝙖𝙣𝙪) 𝙊𝙞𝙡,𝙍𝙤𝙨𝙚𝙝𝙞𝙥  𝙁𝙧𝙪𝙞𝙩 𝙊𝙞𝙡, 𝙏𝙚𝙖 𝙩𝙧𝙚𝙚 𝙊𝙞𝙡, 𝘽𝙚𝙣𝙯𝙤𝙞𝙣 𝙍𝙚𝙨𝙞𝙣𝙤𝙞𝙙  𝙀𝙨𝙨𝙚𝙣𝙩𝙞𝙖𝙡 𝙊𝙞𝙡, 𝙎𝙖𝙣𝙜𝙧𝙚 𝘿𝙚 𝙂𝙧𝙖𝙙𝙤 (𝘿𝙧𝙖𝙜𝙤𝙣𝙨 𝘽𝙡𝙤𝙤𝙙) 𝙤𝙞𝙡, 𝘽𝙧𝙤𝙢𝙚𝙡𝙖𝙞𝙣 , 𝙋𝙖𝙥𝙖𝙞𝙣, 𝙒𝙝𝙞𝙩𝙚 𝙒𝙞𝙡𝙡𝙤𝙬 𝘽𝙖𝙧𝙠 𝙀𝙭𝙩𝙧𝙖𝙘𝙩, 𝘿𝙞𝙢𝙚𝙩𝙝𝙮𝙡𝙖𝙢𝙞𝙣𝙤𝙚𝙩𝙝𝙖𝙣𝙤𝙡 (𝘿𝙈𝘼𝙀),  𝙈𝙚𝙩𝙝𝙮𝙡𝙨𝙪𝙡𝙛𝙤𝙣𝙮𝙡𝙢𝙚𝙩𝙝𝙖𝙣𝙚 (𝙈𝙎𝙈), 𝙡𝙚𝙢𝙤𝙣 𝙚𝙨𝙨𝙚𝙣𝙩𝙞𝙖𝙡 𝙤𝙞𝙡, 𝙇𝙖𝙫𝙚𝙣𝙙𝙚𝙧 𝙚𝙨𝙨𝙚𝙣𝙩𝙞𝙖𝙡 𝙤𝙞𝙡,𝙋𝙝𝙚𝙣𝙤𝙭𝙮𝙚𝙩𝙝𝙖𝙣𝙤𝙡, 𝙊𝙧𝙜𝙖𝙣𝙞𝙘 𝙃𝙞𝙗𝙞𝙨𝙘𝙪𝙨  𝙁𝙡𝙤𝙬𝙚𝙧 𝙀𝙭𝙩𝙧𝙖𝙘𝙩, 𝙑𝙞𝙩𝙖𝙢𝙞𝙣 𝙀,  𝙑𝙞𝙩𝙖𝙢𝙞𝙣 𝘾 𝙀𝙨𝙩𝙚𝙧, 𝙑𝙞𝙩𝙖𝙢𝙞𝙣 𝘽3, 𝙋𝙧𝙤𝙑𝙞𝙩𝙖𝙢𝙞𝙣  𝘽5,𝘽𝙚𝙩𝙖 𝘾𝙖𝙧𝙤𝙩𝙚𝙣𝙚(𝙋𝙧𝙤 𝙑𝙞𝙩𝙖𝙢𝙞𝙣 𝘼), 𝙍𝙤𝙨𝙚𝙢𝙖𝙧𝙮 𝙇𝙚𝙖𝙛 𝙀𝙭𝙩𝙧𝙖𝙘𝙩,𝙊𝙧𝙜𝙖𝙣𝙞𝙘 𝙉𝙚𝙚𝙢 𝙎𝙚𝙚𝙙 𝙊𝙞𝙡, 𝙇𝙚𝙘𝙞𝙩𝙝𝙞𝙣, 𝙓𝙖𝙣𝙩𝙝𝙖𝙣 𝙂𝙪𝙢.