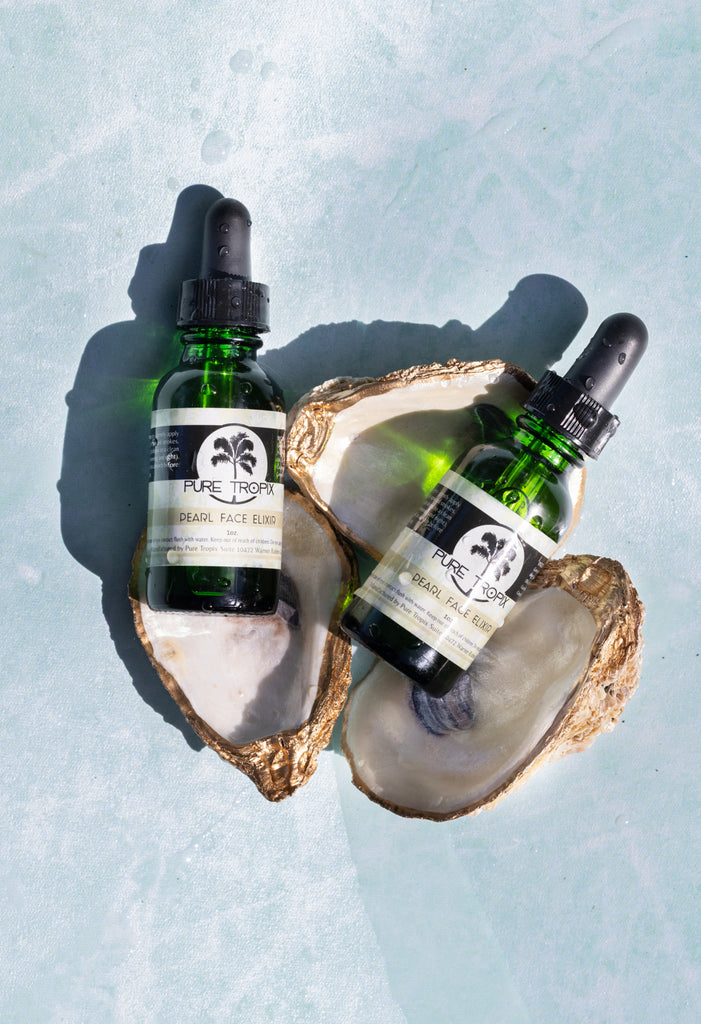 Pearl Face Elixir

corierayvon
My holy grail for clear skin. no cap. @puretropix 's honey cleanser 😍 obsessed. (Y'all can stop asking what I use now) 😂

kamrinwhite
 I get a lot of questions about my body skin care routine and how to keep it soft and smooth. @puretropix has been such a life saver with that !! The body scrub is the best thing to use before shaving and it leaves your body so moisturized and the body butter 😫 it leaves you soooo glowy and smooth omg.
Description
"Super Hydration and Youth in a Jar" - Louise  
Often seen in the backstage setup of top Make up Artists and beauty bloggers The Pearl Face Elixir is a powerful ultralight and delicious. A perfectly balanced potion of "all the best oils" that instantly penetrates and infuses the skin with long-lasting moisture, glow, and radiance. Apply a full dropper into the palm of clean hands for a amazing glow, neck and chest massage morning and evening, re-apply when needed for instant glow. Free of toxins, artificial dye or fragrance. Unisex for all skin types. 
 Deeply penetrates the skin to create lasting hydration and nourishment
 Leaves skin smooth and radiant yet not greasy
 Great to use before makeup for a smooth application
How to Use
After cleansing and toning, lightly massage 1 to 2 drops onto the face and around the neck, for extreme nourishment follow with the Exotic Face Moisturizer  You can also apply after moisturizer for the most flawless makeup application.
Why it Works
Contains four precious Ingredients; Pomegranate Seed Oil, Green Coffee Oil, Avocado Oil, Crushed Pearl Powder, Cucumber Seed Oil
 Pomegranate Seed Oil hydrates the skin, penetrating easily and deeply to create lasting moisture. This blend won't make you look shiny or feel sticky. 
Cold-pressed Organic Cucumber Seed Oil is an excellent anti-ager, keeping the skin's protective barrier strong and improving firmness and elasticity.
Pearl Powder Contains 14 different amino acids and promotes healthy collagen production which gives your skin that glowing appearance.
Green Coffee is rich in fatty acids that moisturize the skin, an excellent anti-aging agent for its vitamins, enzymes, and antioxidants.
Hemp Seed Oil contains Gamma-linolenic acid (GLA) which acts as a powerful anti-inflammatory while simultaneously encouraging skin growth and new cell generation
Ingredients
Cucumber Seed Carrier Oil, Pomegranate Seed Oil, Extra Virgin Hemp Seed Oil Blend, Avocado Oil, Kiwi Seed Oil, Organic Passion Flower Extract, Rose Geranium Essential Oil, Pearl Powder.